Conditions
Dynamic Prices:
At Hotel Westend, we offer flexible rates and exclusive deals! Our prices adjust to demand – the earlier the booking, the greater the savings. Don't wait too long to take advantage of our unbeatable offers. Book now and secure the best prices for your stay!
On public holidays and for conferences, prices will be set at the high season tariff.
Children discounts with minimum 2 paying adults:
children under 2 years - free
children between 2 and 6 years - 50 %
children between 6 and 12 years - 30 %
for children over 12 years in parents' room - 10 %,
Discounts
5% when staying more than 12 days
10% more than 20 days stay
Supplement
child's cot (per day) Euro 15,00
Dogs are welcome (no meals) Euro 15,00. If you arrive later, please contact us in advance by phone.
Booked rooms are hold until 6.00 pm.
Tour operators
Billing after confirmation within 7 days, bank charges payable TO.
in case of cancellation 30 to 22 days before arrival the cancellation fee is 20%
from 21-12 days before arrival the cancellation fee is 50%
11 to 8 days before arrival the cancellation fee is 75%
from 7-0 days before arrival or in case of no show the penalty is 100%
For early departure the hotel will charge 3 days
Trip cancellation insurance
Occasionally, something can happen before the start of a trip. With our trip cancellation insurance you are financially covered. Should a booked stay at a hotel be delayed, or even not taken up or prematurely broken off, cancellation charges can be redeemed. In order to save you any expenses in such cases, we recommend you to take out this trip cancellation insurance, with which you are covered by the Europäische Reiseversicherung's travel insurance.
- Tourist tax excluded.
- A tourist tax of 2,00 € per person (of age over 14) per day will be added to the list prices. Starting from 1st January 2024 the tourist tax will be increased. More details available soon.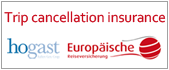 IMPORTANT – The tourist tax has to be paid on site. It is not included in the price shown in any websites or online booking systems, in travel agencies or by any intermediaries.
Please do not forget to think about taking out travel insurance. For more information, click [here].